My DIY Subwoofer

SAE
(Sub Atomic Express)
The foam came in sheets 20x50 and was easy to cut with a knife.
The internal bracing is 3/4" MDF.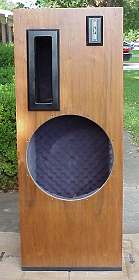 McCauleys came with cork gaskets.
I hold each driver in place with eight quarter twenty machine screws.
These are held by captive "star" nuts on the inside of the cabinet.